ZA Bank debuts savings insurance at up to 2.5% p.a.[1] guaranteed rate
Returns calculated daily with zero fees for early surrender anytime
Hong Kong's No.1 virtual bank ZA Bank[2] today unveiled a new savings insurance plan in collaboration with virtual insurer ZA Insure. The offering comes with a guaranteed return rate of up to 2.5% p.a.[1], enabling users to achieve "capital protection" and "wealth accumulation" at the same time and in a flexible way.
"ZA Savings Insurance"[3] (the "Plan") includes the following features:
100% guaranteed returns: The Plan is a 3-year HKD savings insurance plan with a single premium payment term. Users can enjoy guaranteed returns of up to 2.5% p.a.[1] upon maturity, protecting themselves from inflation with ease through stable capital growth.
Saving in your way: Traditional savings insurance products often require a 5-figure minimum premium, and if the policy holder surrenders the policy before maturity, the benefit amount may be considerably less than the premiums paid, which fails to address some people's needs. "ZA Savings Insurance" is currently the protection plan with the lowest entry requirement in town[4], with an objective to close the protection gap at affordable prices. Users can start their savings plan even with a premium as low as HKD 1. The Plan also allows users to withdraw their money from the policy without any charges.
Savings that grow every day: The guaranteed cash value of the Plan is compounded on a daily basis. Users can make every penny they earn count.


Calvin Ng, Co-Head of Retail Banking at ZA Bank, said: "Not only ZA Bank is the leader of the virtual banking industry in terms of user base and deposit amount, we are also the only virtual bank in town that offers bancassurance products. Being the 'Game Changer' means we dare to challenge the status quo as we keep on striving for the best. Therefore, we decided to introduce a savings insurance product which offers protection and stable growth in a flexible manner. In the face of rising prices, protection against inflation has been a lasting concern among users. The launch of 'ZA Savings Insurance' is particularly meaningful, taking us one step further towards becoming users' main bank."
Ng continued: "Our flagship product 'ZA Savings Go' has been well received by users, and that gave us inspiration when we were designing 'ZA Savings Insurance'. The rollout of this product marks yet another breakthrough in our product innovation. We hope 'ZA Savings Insurance' can assist users in reaching their financial goals gradually."
With a maximum premium of HKD 500,000, "ZA Savings Insurance" also provides life protection. In the case of any unfortunate events during the policy period, the Plan offers a death benefit[5] protection. The Plan has a limited quota and is available on a first-come-first-served basis. Starting from today, both existing and new users can register to enter the waitlist through ZA Bank's official website or via ZA Bank App. Successfully registered users will receive a notification when the Plan is available on 13 December 2021.
For details about "ZA Savings Insurance", please refer to the product brochure or visit bank.za.group/en/insurance/saving.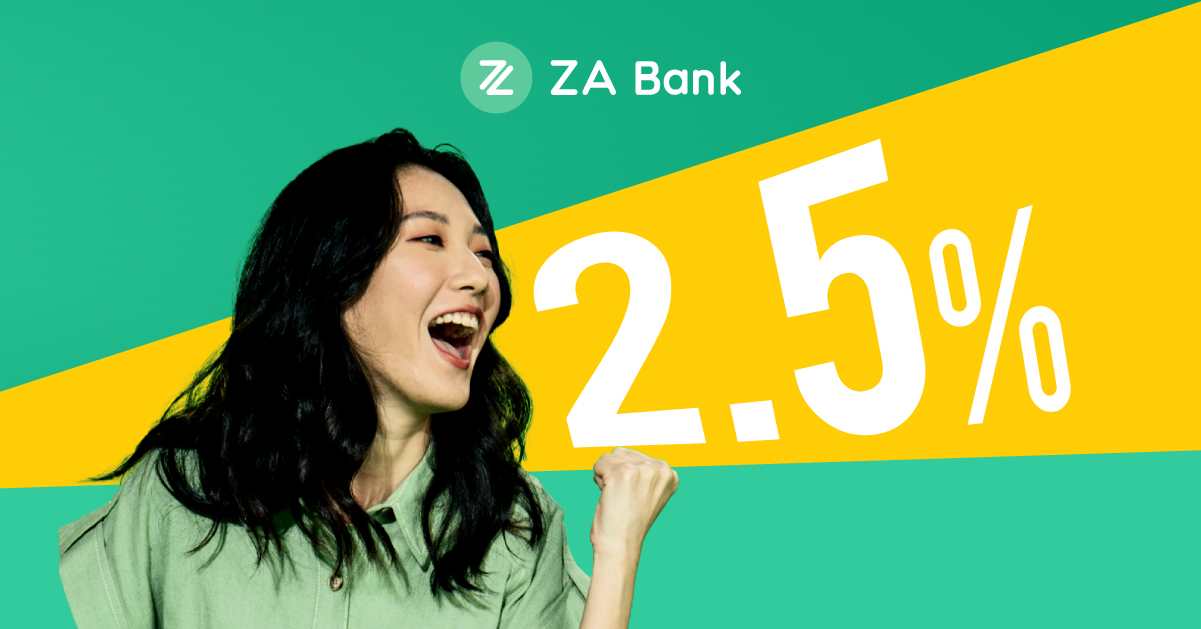 -End-
Media Enquiries
ZA Bank
About ZA Bank
ZA Bank Limited ("ZA Bank"), licensed by the Hong Kong Monetary Authority ("HKMA") on 27 March 2019, is one of the first batch of virtual banks in Hong Kong. On 24 March 2020, ZA Bank officially launched its services to the public, making it the first fully-operating virtual bank in Hong Kong. On 22 March 2021, ZA Bank officially launched Business Banking to deliver an innovative banking experience to local small and medium-sized enterprises. ZA Bank was established by ZhongAn Technologies International Group Limited ("ZA International"). With its "Community-Driven" approach, ZA Bank encourages users to directly contribute to its product development and design processes, helping the bank create innovative services that better serve the needs of Hong Kong customers.
ZA Bank is Hong Kong's No.1 virtual bank. Based on market data, ZA Bank secured a leading position in the virtual banking industry in terms of personal deposits and loan amount as of 30 June 2021. The Bank has also gained the support of more than 400,000 users as of 31 July 2021, becoming the largest virtual bank in terms of user base.
ZA International was established in Hong Kong in December 2017, by ZhongAn Online P&C Insurance Co., Ltd. (HKEX stock code: 6060), an online-only insurtech company in China, to explore international business development, collaboration and investment opportunities in the area of fintech and insurtech in overseas markets.
About ZA Insure
ZA Insure is a digital-only insurance platform which strives to break the time and wealth constraints on insurance products. It brings the needs of users back into focus and helps them obtain the most suitable protection at a most reasonable cost. ZA Insure is dedicated to providing a user experience that is simple, fast, and accessible through its 24/7 online platform from quotation, underwriting to claim.
ZA Insure is the trade name of ZA Life Limited, a joint venture between ZA International and Fubon Life Insurance (Hong Kong) Company Limited. On 4 May 2020, ZA Life Limited obtained a digital-only insurer license from the Hong Kong Insurance Authority under its Fast Track pilot scheme.
---
Remarks:
[1] "2.5% p.a. guaranteed rate" refers to the Internal Rate of Return (IRR) of the policy at the end of the 3rd policy year (maturity), assuming no partial or full surrender has been made.
[2] 'No.1' is defined by ZA Bank's leading position in the virtual banking industry in terms of personal deposits and loan amount as of 30 June 2021. ZA Bank has also gained the support of more than 400,000 users as of 31 July 2021, becoming the largest virtual bank in terms of user base. Source: media reports.
[3] "ZA Savings Insurance" is a life insurance plan with a savings element underwritten by ZA Life Limited ("ZA Insure"), which is authorised and regulated by the Insurance Authority of the Hong Kong SAR. The Plan is not a bank deposit or bank savings plan. ZA Bank ("ZA Bank Limited") is an insurance agent authorised by ZA Insure. Policy holders are subject to the credit risk of ZA Insure.
[4] The statement about "the lowest entry requirement in town" is based on a comparison of the minimum premiums of existing short-term savings insurance plans offered by major insurance companies in Hong Kong as of November 2021. Source: 10Life (https://bit.ly/31Oiqxp).
[5] The death benefit is equivalent to 105% of the total premiums paid less any partial surrenders or the guaranteed cash value, whichever is higher.