Generali Hong Kong and ZA Bank commence bancassurance partnership, the first of its kind between a global insurer and a virtual bank in Hong Kong
Generali Hong Kong and Hong Kong's No.1 virtual bank[1] - ZA Bank, today announced the commencement of their bancassurance partnership. This partnership is the first of its kind in Hong Kong between a well-established global insurer and a leading virtual bank in the city, with the common goal being to excel in financial innovation and customer empowerment. Offering life insurance products issued by Generali Hong Kong on the ZA Bank App, it provides holistic and innovative protection that cover different stages of a customer's life.
The collaboration presents a digitally engaged journey which combines the convenience and accessibility of the ZA Bank App and the professionalism and human touch of an appointed insurance advisor from Generali Hong Kong. From accessing product details, scheduling a meeting with appointed insurance advisors to settling payments and reviewing policy documents, every step of the in-app experience aims to be seamless and ensures a personalized and user-friendly interaction that works. The first phase of launch comprises of five life products covering: critical illness, savings, retirement, Qualifying Deferred Annuity Policy, and life protection with return of premium.
Davide Glavina, CEO[2] of Generali Life (Hong Kong) Limited and General Manager of Assicurazioni Generali S.p.A – Hong Kong Branch, said: "The partnership is part of Generali's commitment to develop bancassurance distribution as a driver of sustainable growth. Taking pride in our 190 years of history, we aim to be a lifetime partner to our customers and have been pioneering innovative insurance solutions to meet their evolving needs. It makes us the natural partner for ZA Bank, a change agent in the banking space that provides 360° protection for over 500,000 customers through technology. This insurer-virtual bank partnership allows Generali to combine our legacy of knowledge with ZA's expertise in fintech and their entrepreneurial spirit to devise unique and innovative offerings that empower customers. With this shared vision, we are confident of capturing, unleashing and creating new possibilities that benefit the broader community."
Rockson Hsu, CEO of ZA Bank, said: "As a new bank in Hong Kong, we dare to challenge the status quo with our vision to create a better banking experience. That makes us who we are today – a game-changing bank that has gained the trust of more than 6% of Hong Kong's total population. Looking forward, with our aspiration to become users' main bank covering their holistic financial needs, we will forge into the insurance ecosystem by collaborating with the industry enablers. The partnership with Generali is a significant step for us to reimagine insurance with technology and strengthen trust with our users. Creating sparks between a 190-year-old insurance group and a new digital bank, our partnership is a key milestone that we expect will be a big hit with users."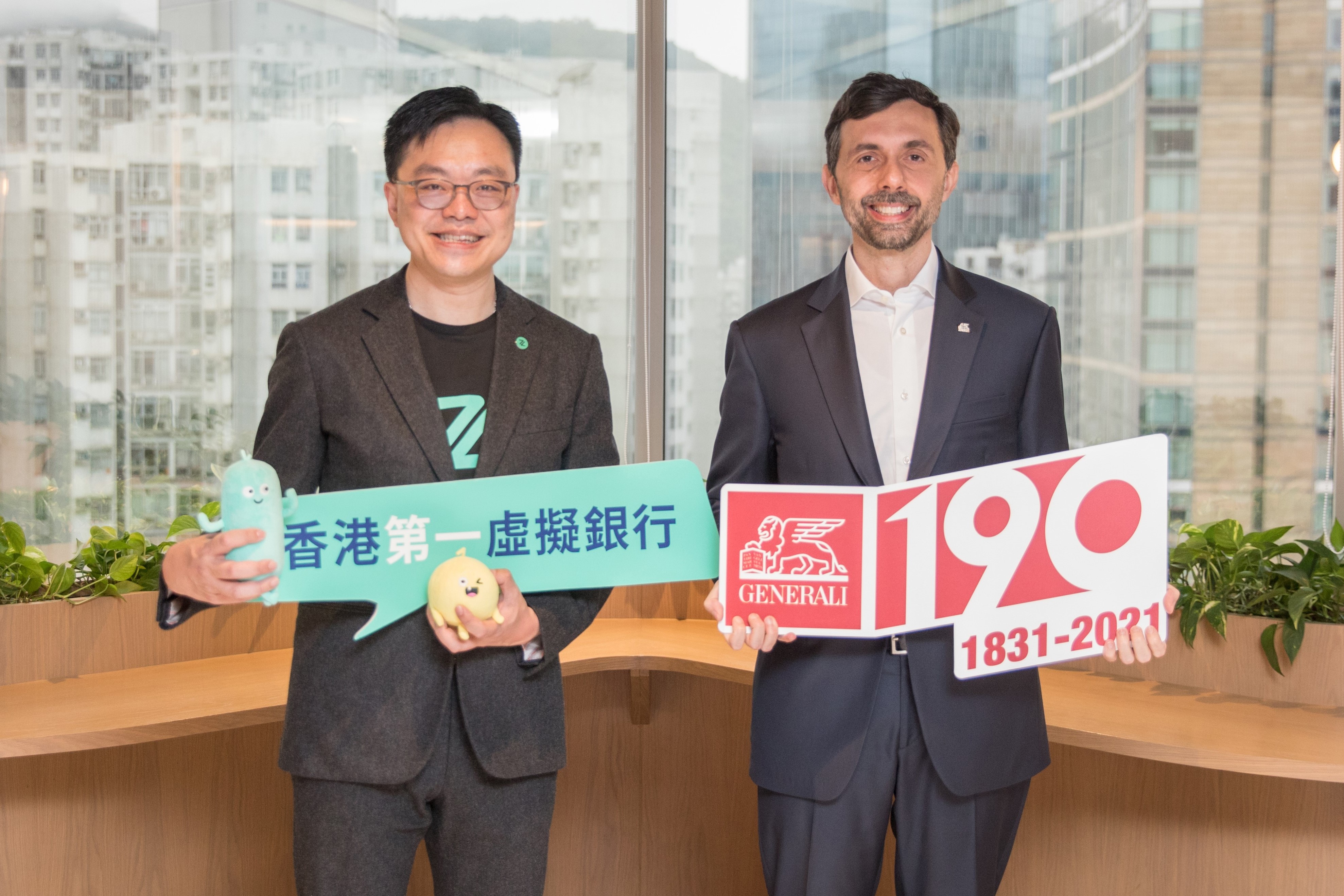 Please download high-resolution images here.
Generali Hong Kong refers to Assicurazioni Generali S.p.A – Hong Kong Branch and Generali Life (Hong Kong) Limited.
- End -
About Generali Hong Kong
In 1981, Assicurazioni Generali S.p.A. was first registered as an authorized insurer in Hong Kong. Over the years, Generali (through Assicurazioni Generali S.p.A. - Hong Kong Branch and Generali Life (Hong Kong) Limited) has enabled people to shape a safer future by caring for their lives and dreams. We focus on understanding the specific and unique requirements of our customers. This serves as the core of our action in providing solutions to meet our customers changing needs. In partnership with our distribution intermediaries and with the combination of our local knowledge and Generali Group's global network and expertise, we develop unique, innovative, simple and flexible insurance and financial solutions for our customers.
About Generali Group
Generali is one of the largest global insurance and asset management providers. Established in 1831, it is present in 50 countries in the world, with a total premium income of more than € 75.8 billion in 2021. With nearly 75,000 employees serving 67 million customers, the Group has a leading position in Europe and a growing presence in Asia and Latin America. Generali's ambition is to be the life-time partner to its customers, offering innovative and personalized solutions thanks to an unmatched distribution network.
About ZA Bank
ZA Bank Limited ("ZA Bank"), licensed by the Hong Kong Monetary Authority ("HKMA") on 27 March 2019, is one of the first batch of virtual banks in Hong Kong. On 24 March 2020, ZA Bank officially launched its services to the public, making it the first fully-operating virtual bank in Hong Kong. On 22 March 2021, ZA Bank officially launched Business Banking to deliver an innovative banking experience to local small and medium-sized enterprises. ZA Bank was established by ZhongAn Technologies International Group Limited ("ZA International"). With its "Community-Driven" approach, ZA Bank encourages users to directly contribute to its product development and design processes, helping the bank create innovative services that better serve the needs of Hong Kong customers.
ZA Bank is Hong Kong's No.1 virtual bank. Based on market data, ZA Bank secured a leading position in the Hong Kong virtual banking industry in terms of personal deposits and loan balance as of 30 June 2021. The Bank has also gained the support of more than 500,000 users as of 31 December 2021, becoming the largest virtual bank in terms of user base in Hong Kong.
ZA International was established in Hong Kong in December 2017, by ZhongAn Online P&C Insurance Co., Ltd. (HKEX stock code: 6060), an online-only insurtech company in China, to explore international business development, collaboration and investment opportunities in the area of fintech and insurtech in overseas markets.
---
Remarks:
[1] No.1 is defined by ZA Bank's leading position in the virtual banking industry in terms of personal deposits and loan amount as of 30 June 2021. ZA Bank has also gained the support of more than 500,000 users as of 31 December 2021, becoming the largest virtual bank in terms of user base. Source: media reports.
[2] The appointment of Davide Glavina as Chief Executive Officer of Generali Life (Hong Kong) Limited remains subject to regulatory approval.