ZA Bank teams up with ZA Insure to launch pure life protection with best cost performance ratio in Hong Kong
'Best duo' in finance formed to redefine pure life insurance
Hong Kong's No.1 virtual bank1 ZA Bank, joining hands with virtual insurer ZA Insure, has announced that from today users can access "ZA Life Protection" in the ZA Bank App, a pure life protection2 with the best cost performance ratio3 in Hong Kong. This marks a new page in pure life insurance.
ZA Bank's new insurance service carries the following features:
Highest insured amount for life insurance: "ZA Life Protection", powered by ZA Insure, offers up to HKD 10 million life protection, the highest sum insured among Hong Kong's virtual insurers at present4. No body check is required for the applicants, and it is guaranteed that family medical history will have no impact on premiums or application reviews.
Good value for money in Hong Kong3: "ZA Life Protection" comes with highest cost performance ratio compared to existing term life insurance products with 5-year and 10-year coverage5. For an 18-year-old non-smoking female holding a "ZA Life Protection" policy with 10-year coverage and HKD 10 million sum insured, the premium is only HKD 3,200 per annum6. In terms of cost performance ratio3, a user will be insured with more than HKD 3,125 life protection for every HKD 1 premium, making each policy worth it.
Getting insured in minutes: Users can get a policy in as fast as 180 seconds7, where all steps will be completed on the mobile phone without the need to meet a broker in person. This allows them to bid farewell to the traditional application experience which takes hours or even days.
Wayne Xu, President of ZA International and CEO of ZA Insure, said: "ZA Bank's seamless user experience and ZA Insure's competitive 'ZA Life Protection' combined have formed the 'best duo' in finance, creating a different insurance service. This is the very first in-depth collaboration between a virtual bank and a virtual insurer in Hong Kong's financial market. Hongkongers can now enjoy a fully-digital, integrated wealth management experience that covers savings, loans, payments, spending and insurance. We are happy that ZA International's strategic approach in the local financial market has started to bear fruit. This marks a significant step forward in terms of facilitating Asia's FinTech development."
Rockson Hsu, CEO of ZA Bank, said: "Riding on the success of our innovative features including ZA Card, ZA Quest and electronic lai-see, we continue to be the 'Game Changer' and redefine pure life insurance products with our insurance offerings. From now on, users can access insurance products in the ZA Bank App and enjoy a one-stop virtual banking service without even leaving the house. Once again, ZA Bank has provided an all-new banking experience for users."
With ZA Bank's insurance service, users can also access cancer, heart attack and stroke protection plans. They will enjoy 20% off their first-year premium when applying for "ZA Life Protection", "ZA Cancer Protection" and "ZA Heart Attack and Stroke Protection" through ZA Bank8. For details, please visit: bank.za.group/en/insurance.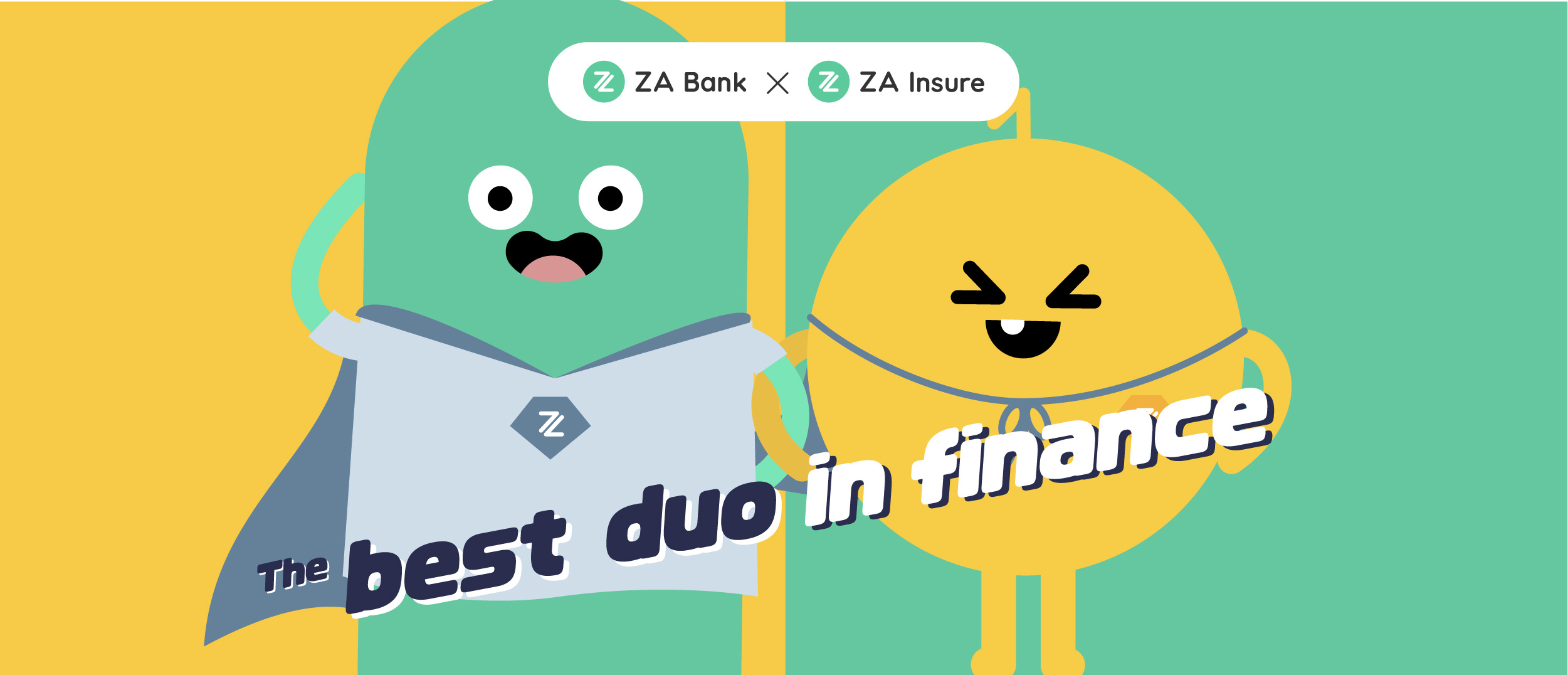 Remarks:
1 "No.1" is defined by ZA Bank's leading position in the virtual banking industry in terms of number of users, personal deposits and loan amount as of 31 December 2020. Source: https://bit.ly/3b5yEnE.
2 Pure life protection refers to term life insurance with no savings component. The "best cost performance ratio in Hong Kong" is based on a market survey on pure life insurance products conducted on 21 April 2021.
3 Cost Performance Ratio = Sum Insured / Annual Premium.
4 As of 22 April 2021.
5 For applicants aged between 28 and 65.
6 Premium is for reference only. Actual premium may change based on the underwriting result.
7 The actual completion time varies across individuals. In general, provided that all required information is in order, a user can finish the application process within 3 minutes.
8 Terms and Conditions apply.
-End-
Media Enquiries
ZA International
About ZA Bank
ZA Bank Limited ("ZA Bank"), licensed by the Hong Kong Monetary Authority ("HKMA") on 27 March 2019, is one of the first batch of virtual banks in Hong Kong. On 24 March 2020, ZA Bank officially launched its services to the public, making it the first fully-operating virtual bank in Hong Kong. On 22 March 2021, ZA Bank officially launched Business Banking to deliver an innovative banking experience to local small and medium-sized enterprises. ZA Bank was established by ZhongAn Technologies International Group Limited ("ZA International"). With its "Community-Driven" approach, ZA Bank encourages users to directly contribute to its product development and design processes, helping the bank create innovative services that better serve the needs of Hong Kong customers.
Based on market data, Hong Kong's virtual banks combined have attracted 420,000 users as of 31 December 2020, with HKD 15 billion of deposits and HKD 1 billion of loans. ZA Bank secured a leading position in the industry in terms of number of users (220,000), personal deposits (HKD 6 billion) and loan amount (HKD 650 million), thereby becoming Hong Kong's No.1 virtual bank.
ZA International was established in Hong Kong in December 2017, by ZhongAn Online P&C Insurance Co., Ltd. (HKEX stock code: 6060), an online-only insurtech company in China, to explore international business development, collaboration and investment opportunities in the area of fintech and insurtech in overseas markets.
About ZA Insure
ZA Insure is a virtual insurance platform which strives to break the time and wealth constraints on insurance products. It brings the needs of users back into focus and helps them obtain the most suitable protection at a most reasonable cost. ZA Insure is dedicated to providing a user experience that is simple, fast, and accessible through its 24/7 online platform from quotation, underwriting to claim.
ZA Insure is the trade name of ZA Life Limited, a joint venture between ZA International and Fubon Life Insurance (Hong Kong) Company Limited. On 4 May 2020, ZA Life Limited obtained a virtual insurer license from the Hong Kong Insurance Authority under its Fast Track pilot scheme.