ZA Bank launches 'HKD 10M Joy of Lai-see'
Maintaining traditional lai-see giving experience in a new way
Starting from 10 to 28 February 2021, ZA Bank will continue to be the game changer through creating a unique electronic lai-see function. The Bank will also launch the "HKD 10M Joy of Lai-see" campaign, reserving as much as HKD 10 million for users, their friends, and families to win fabulous cash rewards1.
Under the theme of "traditional in a new way", the electronic lai-sees of ZA Bank boasts several features:
Preserving the essence of "packing lai-sees": Users do not have to worry about queuing up to exchange new banknotes. ZA Bank has banknotes with different face value for users to choose in the App. All they need to do is to click the banknotes they want and drag them into the lai-see envelope. Another option is to enter the dollar amount directly, with lucky numbers like 168, 188, and 888 – all up to users' preference.
Giving lai-sees in pairs: As the old saying goes: Good things often come in pairs. Users can give a pair of lai-sees by choosing "In pairs" when packing the lai-see. Newlyweds should find this particularly convenient.
Customising lai-see envelopes: Users often spend efforts in buying lai-see envelopes with different styles. That is why ZA Bank took a step further when designing the e-lai see function. After users drag the money and check the amount, they can click 'Next' to proceed and pick the lai-see envelopes. The Chinese New Year-themed visuals featuring Zappy and Alfie with greeting messages should put a big smile on the face of relatives and friends who receive the lai-see.
Bringing back the feeling of "opening lai-sees": After receiving the lai-sees, the payee needs to click on the sticker at the seal. The envelope will then open and he/she can see the banknotes inside.
Giving lai-sees to everyone for real: As long as the payee has registered Faster Payment System (FPS) with a mobile number, he/she can receive the lai-see from ZA Bank users through the default receiving bank even without a ZA Bank account. Non-ZA Bank users will receive a link on which they can click and open the lai-see in a web browser.
Calvin Ng, Co-Head of Retail Banking at ZA Bank, said: "Users may not be able to give physical lai-sees to family and friends in the coming Chinese New Year as they reduce family gatherings. Thus, we have put a lot of thought into our design, just to make sure that users can feel the festive vibes and traditions from the entire journey from packing, sealing, sending to opening lai-sees. It is way more than just a few taps on the phone screen. We have preserved the essence of giving physical lai-sees in every single detail, hoping that users, their family and friends can feel the human touch at finger tips. By doing so, they can celebrate a good start for the Year of Ox."
During the campaign period of "HKD 10M Joy of Lai-see", ZA Bank will roll out two promotional offers with a plan to reward participants with HKD 10 million cash in total.
Offer 1: Earn $168 lai-see, together
User can receive HKD 168 cash reward by inviting a friend or family member to open a ZA Bank account. The referee will also get HKD 168 cash reward2.
Offer 2: Win $1,000 at the quest of the Ox
Users who have given lai-see via the ZA Bank App will get a chance to win HKD 1,000 cash reward3 (commonly known as "Golden Ox" in Cantonese).
The lai-see function and the associated promotional offers will be officially launched next week. Please stay tuned.
ZA Bank App – CNY-themed home screen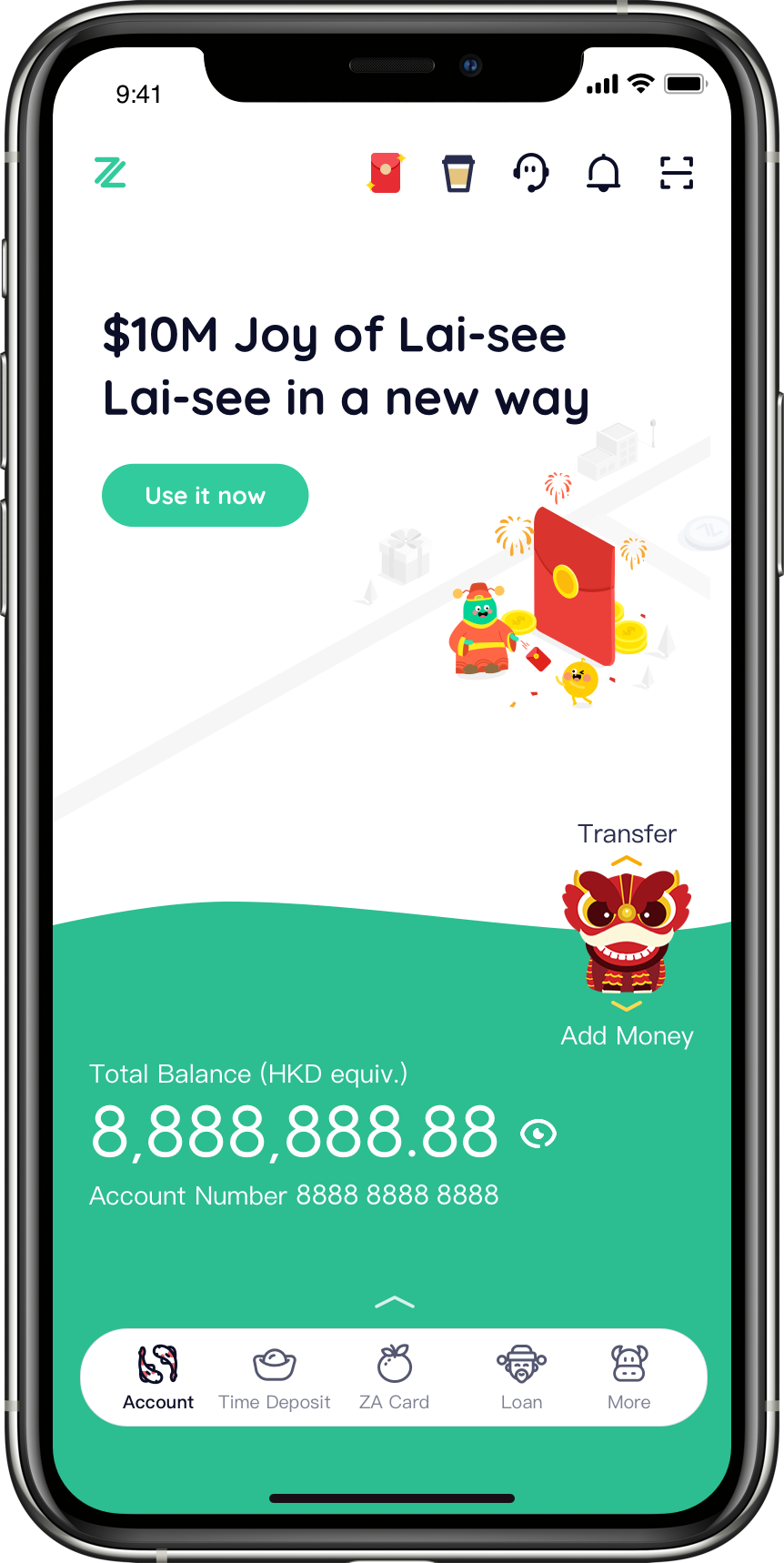 Packing lai-see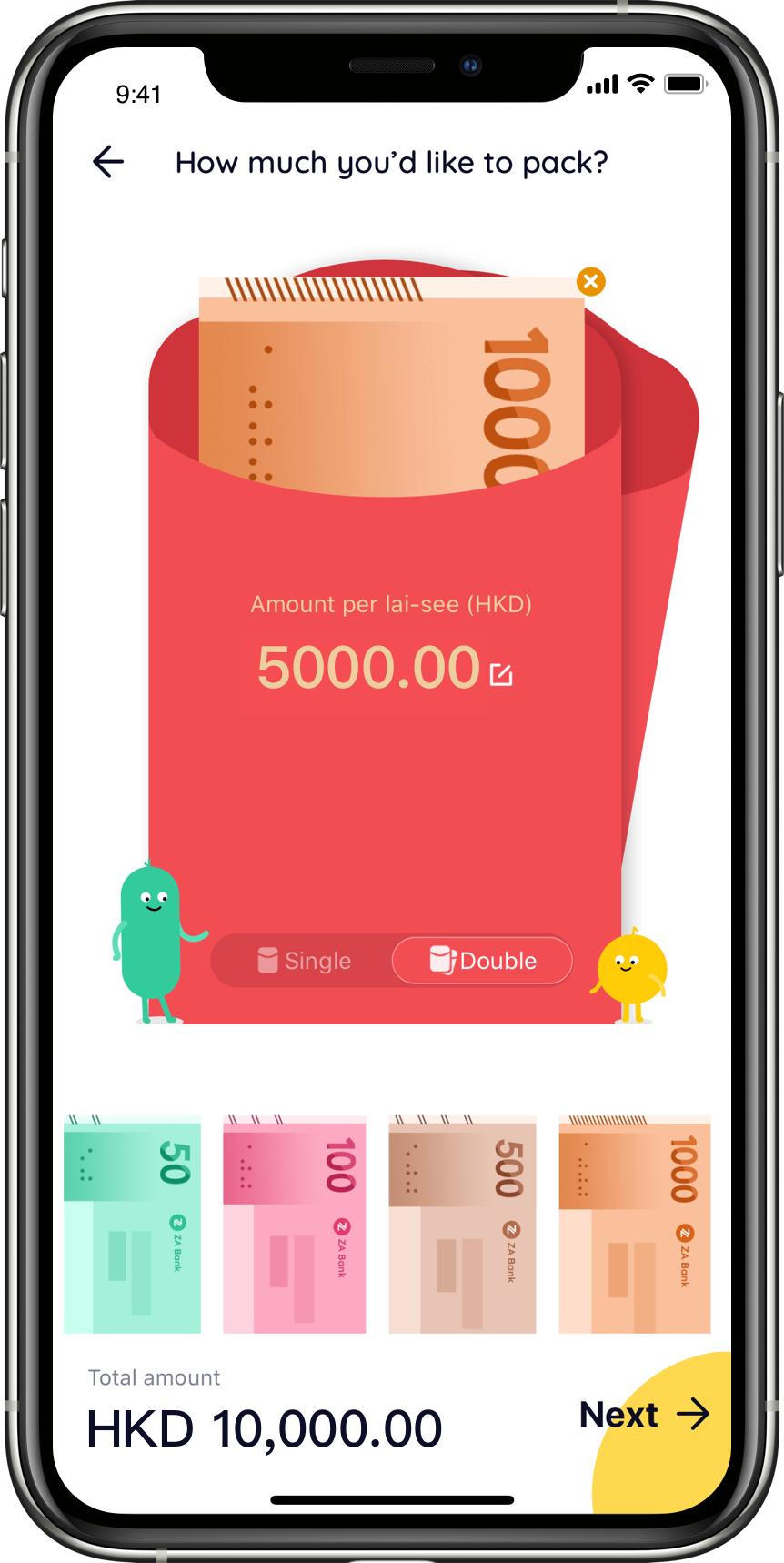 Sealing lai-see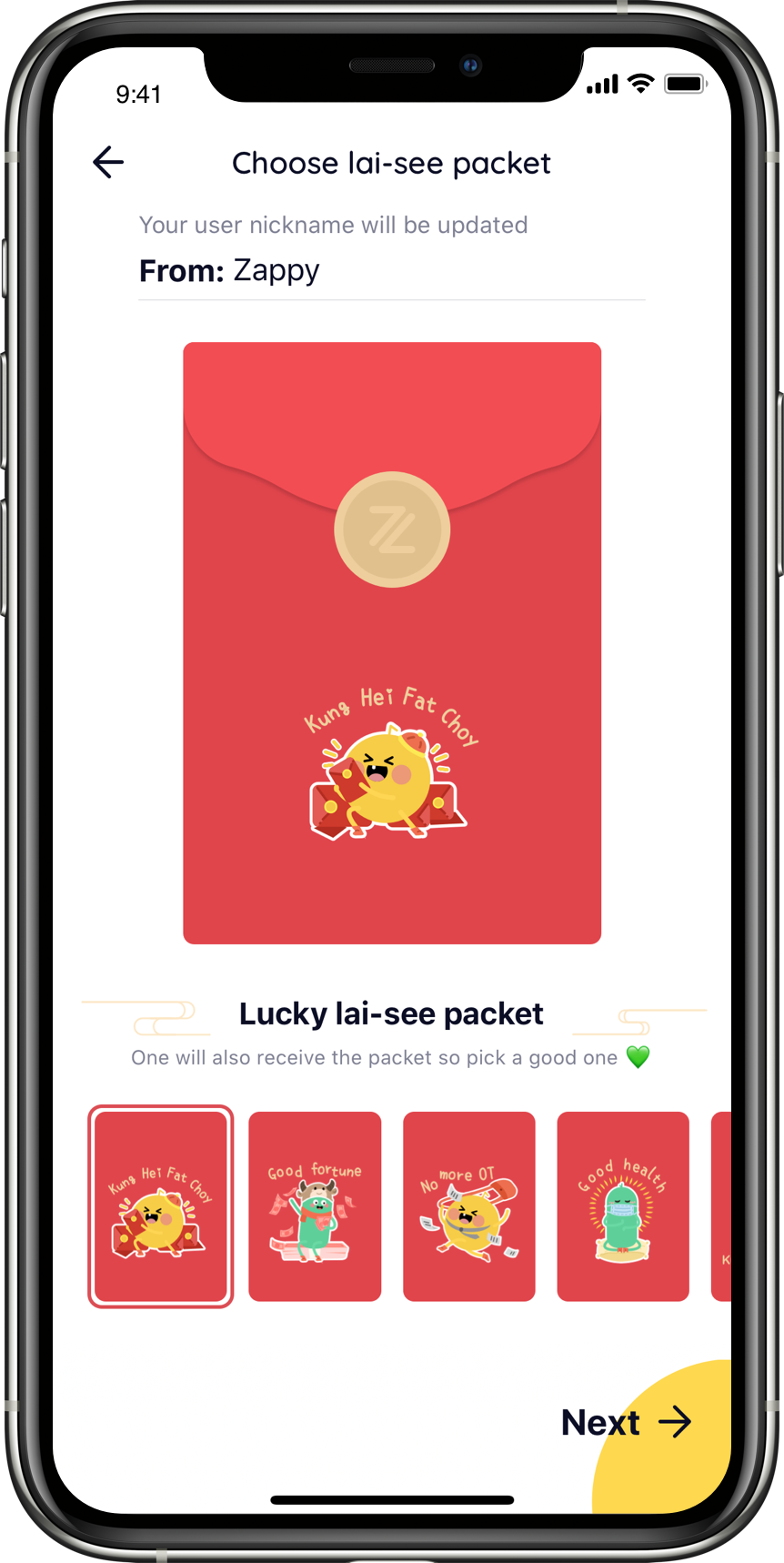 Opening lai-see (ZA Bank users)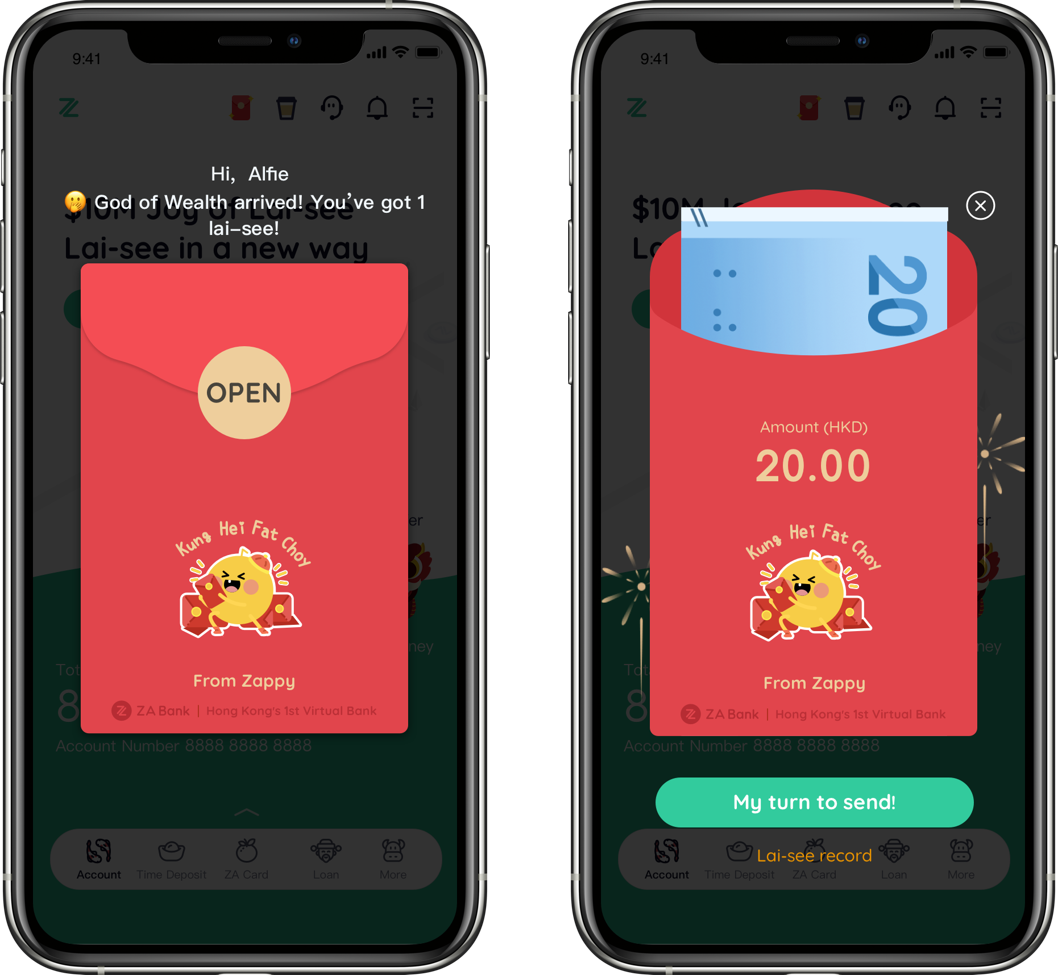 Opening lai-see (Non-ZA Bank users)

Remarks:
1 Terms and conditions apply.
2 The Participant refers a person ("Referee") to successfully open an account with ZA Bank during the applicable period upon receiving an invitation code. The Participant must forward that invitation code to the Referee; the Referee must redeem the invitation code and successfully submit an account opening application with the invitation code; and the Referee has passed ZA Bank's internal review for account opening. Terms and conditions apply.
3 The rebate is in the form of ZA Coin. ZA Coin is a third-party reward scheme operated by ZA International Financial Services Limited. User must link the ZA Bank account to ZA Coin Account in order to join the rebate promotion. Terms and conditions apply.
- End -
Media Enquiries
ZA Bank


About ZA Bank
ZA Bank Limited ("ZA Bank"), licensed by the Hong Kong Monetary Authority ("HKMA") on 27 March 2019, is one of the first batch of virtual banks in Hong Kong, offering a wide range of online financial services to Hong Kong users. ZA Bank was established by ZhongAn Technologies International Group Limited ("ZA International"). With a "Community-Driven" approach, ZA Bank encourages users to directly contribute to its product development and design process together, guiding the bank to design and develop innovative products and services that will better serve the needs of Hong Kong customers.
ZA International was established in Hong Kong in December 2017, by ZhongAn Online P&C Insurance Co., Ltd. (HKEX stock code: 6060), an online-only insurtech company in China, to explore international business development, collaboration and investment opportunities in the area of fintech and Insurtech in overseas market.t ZA Insure