ZA Bank teams up with Octopus to step up consumption vouchers
New users can win an extra HKD 5,000
Hong Kong's No.1 virtual bank1 ZA Bank has announced a collaboration with Octopus Cards Limited (OCL) to promote the Consumption Voucher Scheme (the "Campaign"), becoming the first virtual bank to partner with OCL on this initiative.
From 1 July 2021 to 31 August 2021 (both dates inclusive) (the "Promotion Period"), Hong Kong residents may win an extra cash reward (the "Reward") of up to HKD 5,018 offered by ZA Bank upon choosing Octopus Card to collect the Government's consumption vouchers and completing the following steps:
1. Becoming a new ZA Bank user without holding any products or services2 with the Bank before the Promotion Period;
2. Successfully opening a ZA Bank account with the invitation code "OCT5000" during the Promotion Period to get an HKD 18 cash reward3;
Rockson Hsu, CEO of ZA Bank, said: "With Octopus Card, one of Hong Kong's most widely used stored value facilities among local residents and merchants, Hongkongers can collect their electronic consumption vouchers in a familiar, user-friendly, and convenient way. We are excited about this partnership with Octopus Card to jointly support the scheme, enabling residents who use Octopus Card to collect their consumption vouchers to take spending experience to the next level while enjoying more rewards. At the same time, we hope to further integrate virtual banking into people's daily lives through this initiative, thereby making a contribution to promoting electronic payments."
ZA Bank may ask participants to present information on using Octopus Card to collect the consumption vouchers disbursed by the Government. The reward will be forfeited if a participant fails to provide such information. Please visit https://bank.za.group/agreement/pdf/en_US/1000206 to learn more about the Campaign's terms and conditions.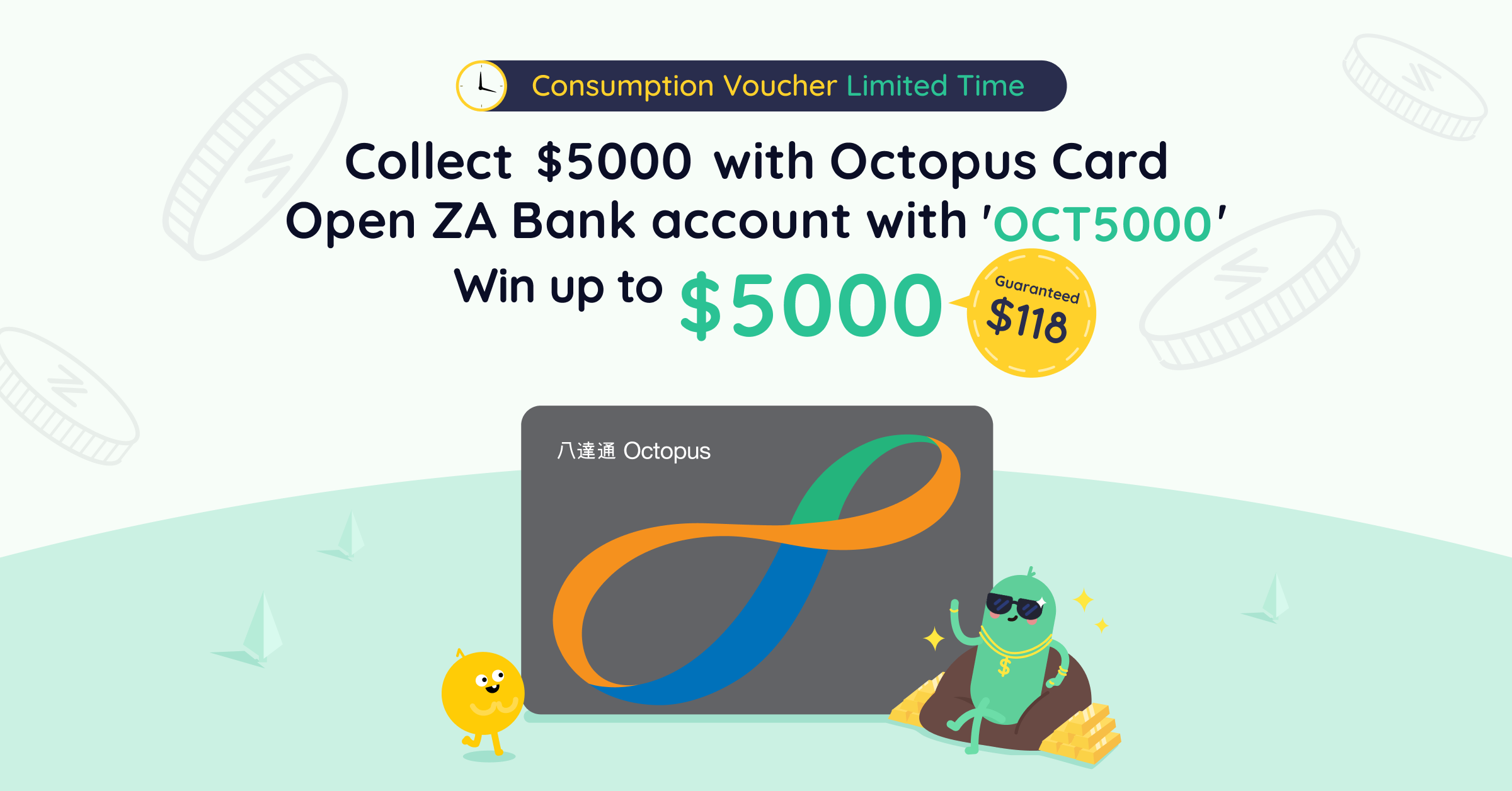 Remarks:
1 "No.1" is defined by ZA Bank's leading position in the virtual banking industry in terms of number of users, personal deposits and loan amount as of 31 December 2020.
2 Including but not limited to deposit accounts and loan accounts.
3 Participants must pass the internal review by ZA Bank upon or after successful account opening. The HKD 18 will be directly credited to a user's ZA Bank savings account.
4 To be eligible for the lucky draw, participants must follow the instructions in the ZA Bank App to sign up for and activate ZA Coin, a third-party reward scheme operated by ZA International Financial Services Limited ("ZAIF"), via the ZAIF's website, and successfully link their ZA bank account to ZA Coin.
5 Each eligible participant will be entitled to a maximum of one lucky draw chance. Probability of each reward is not evenly distributed. The reward is in the form of ZA Coin at a rate of 100 ZA Coins = HKD 1. Upon successful redemption, the cash will be directly credited to the participant's ZA Bank HKD savings account. Terms and Conditions apply. For details, please visit: https://bank.za.group/agreement/pdf/en_US/1000206.
-End-
Media Enquiries
ZA Bank
About ZA Bank
ZA Bank Limited ("ZA Bank"), licensed by the Hong Kong Monetary Authority ("HKMA") on 27 March 2019, is one of the first batch of virtual banks in Hong Kong. On 24 March 2020, ZA Bank officially launched its services to the public, making it the first fully-operating virtual bank in Hong Kong. On 22 March 2021, ZA Bank officially launched Business Banking to deliver an innovative banking experience to local small and medium-sized enterprises. ZA Bank was established by ZhongAn Technologies International Group Limited ("ZA International"). With its "Community-Driven" approach, ZA Bank encourages users to directly contribute to its product development and design processes, helping the bank create innovative services that better serve the needs of Hong Kong customers.
Based on market data, Hong Kong's virtual banks combined have attracted 420,000 users as of 31 December 2020, with HKD 15 billion of deposits and HKD 1 billion of loans. ZA Bank secured a leading position in the industry in terms of number of users (220,000), personal deposits (HKD 6 billion) and loan amount (HKD 650 million), thereby becoming Hong Kong's No.1 virtual bank.
ZA International was established in Hong Kong in December 2017, by ZhongAn Online P&C Insurance Co., Ltd. (HKEX stock code: 6060), an online-only insurtech company in China, to explore international business development, collaboration and investment opportunities in the area of fintech and insurtech in overseas markets.